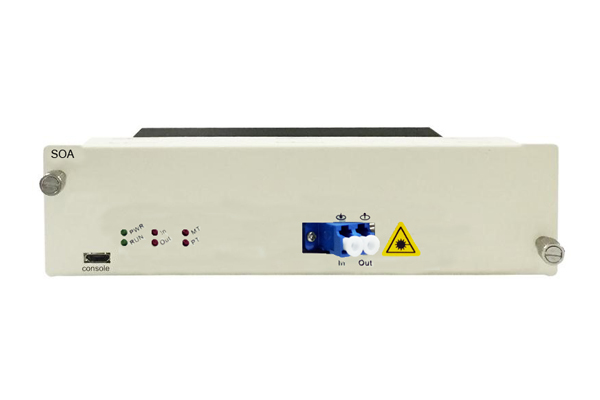 Product features
Low noise figure: typical is<6dB

High-performance dual-pluggable power supply: 110V/220V mixed with 48V

Complete network management interface: Ethernet, RS-485, RS-232 interface

Support Telnet and SNMP Network management

High Precise AGC and APC Circuit: Typical power control accuracy is ±0.05dB

High Precise ATC Circuit: Typical temperature control accuracy is<±0.1℃

Intelligent Temperature Control System: using a dedicated Temperature control chip which make cooling and power loss reduce 30% than competitors

High stability and reliability: MTBF>150000 hours

All performance compatible with BellcoreGR-1312-CORE request
Product overview
Design of SOA optical fiber amplifier for signal amplification with 1310 wavelength band, the transparent transmission protocol, suitable for high speed signal amplification (10Gbps) etc..
The stability SOA Pump optical laser and unique ATC (automatic temperature control) and APC (automatic power control) circuit are employed in it as the key component to ensure the high stability and reliability of output power,
The design of dual Power Mixed and hot swap make it has longer MTBF. Also, the power system can be backup.
Employ the intelligent temperature control system,the fan is on when the module temperature over 45℃, meanwhile it will stop as the temperature is under 40℃, which makes sure the thermal stability and fan's long life-time, meanwhile, the professional air flow design can also ensure the best temperature stability.
Intelligent network management system. Perfectly network interface: Ethernet, RS-485 and RS-232 network interface,and the open mib ensure the connectivity with all other network management system.
Performance index